About Cadense
Cadense is a revolutionary company founded by Dr. Tyler Susko, driven by a vision to help those in need.
Combining robotic design, neurorehabilitation, and functional biomechanics, Cadense creates groundbreaking adaptive solutions.
Dr. Susko's journey began while he was in high-school and visited a school for children with disabilities, igniting his passion for making a difference.
Deeply rooted in science
During a visit to MIT, Dr. Susko had a lightbulb moment and realized his machine design skills could aid those with mobility disorders. This led to the development of the MIT Skywalker, a split belt treadmill enhancing walking therapy for stroke patients.
Inspired by the feedback, Dr. Susko created the Cadense Original, a shoe reducing frictional forces and that adapts to uneven surfaces, ensuring a smooth walking experience.
Learn how it works
On a life-changing mission
With ongoing scientific research, Cadense aims to revolutionize the way people with walking difficulties experience movement.
Our ultimate vision is to improve the cadence of life for everyone, enabling mobility and empowerment.
Join Cadense on our journey towards a future to enhance the quality of life of those that need it the most.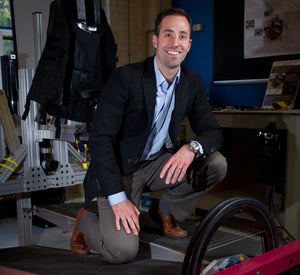 About Dr. Susko
Dr. Susko holds a PhD from MIT in mechanical engineering and a Master of Engineering degree in mechanical engineering from Lehigh University. 
He was the creator of the MIT-Skywalker Gamma prototype, a rehabilitation robot specifically designed for people with gait impairment due to neurological injury. 
Currently, Professor Susko teaches 9 courses in engineering design at UCSB and is the Founder and CTO of Cadense.
Meet the Cadense Team