Original Men's Adaptive Shoe
Men's Sizes
Width information: Regular is a size D; Wide is a size E.
Foot Length (IN)

10" 

25/64

10" 

35/64

10" 

45/64

10" 

29/32

11" 

1/16

11" 

3/8

Foot Length (MM)

264

268
272
277
281
289
9.5
10
10.5
11
12
9
9.5
10
10.5
11.5
42 2/3
43 1/3
44
44 2/3
45 1/3
46 2/3
27.5
28
28.5
29
30
Need help finding your size? Please send us a request to: support@cadense.com
Why we made this shoe
We have designed the first truly adaptive shoe in the world for people with walking difficulties. Often they can't lift their foot enough to clear the ground when taking a step forward. In order to not trip they shuffle or develop a different coping mechanism.
Our Cadense Original Adaptive Shoe features groundbreaking, patented variable friction technology. It allows its wearer to slide over obstacles with ease and develop a more normal gait. 

But we have not stopped there. We made sure that the first truly adaptive shoe also feels like walking on clouds and looks stunning.
Truly Adaptive. Highly Versatile.
Walk effortlessly on (almost) any surface. Our patented variable friction technology has been designed to work indoors and outdoors.
Use them on low-pile carpets, hardwood floors, uneven pavements, concrete, and many more. Your Cadense sneakers will go anywhere you go.
Stunning looks. Outrageous comfort.
When we created the Cadense Original, we had one goal in mind: Combining world-class adaptive functionality, show-stopper looks, and unparalleled comfort in one sneaker.
But above all, we wanted to make a sure that you will walk more effortlessly, confidently, and comfortably.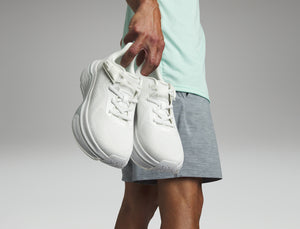 Get moving, with ease.
Our genius technology didn't stop at the bottom of the shoe.
We have designed the entry mechanism with you in mind. Using only one hand, release the velcro, slide into the shoe, and tighten the velcro to your comfort.
You will be on your way in no time.
What our customers are saying
These shoes, what a blessing they are.  As far as trip hazards and how they allow my foot to slide forward, it's fantastic. The soles make all the difference in the world to me. As far as walking, I'm able to go further, because I'm not stepping over things, oftentimes I kinda just slide right over things.
Chad
Wow, these shoes are a blessing, I am so stable, I can't believe it.
Fran
My wife likes the look of them and tells me I am walking faster. I use them as much as I can.
Dave
I was out downtown by myself and the shoes really saved me.  I was getting tired and dragging my feet.  These shoes allowed me to get back to my car safely.
Bobby
I love that the shoes make a slight clicking sound. That way I know when I don't clear the ground. I have also improved my walking speed significantly.
Kevin
Thank you
I am so glad these shoes exist. Thank you for making them.
love them
The fit is spot-on, and they come in various colors to suit your style. Walking has never been easier!
Ultimate Walking solution
The fit is exceptional, the grey color is chic, and walking in them is effortless
Extra wide
Great shoes. Wish they made them in extra wide.
New experience
The fit is perfect, the brown color is elegant, and the comfort level is unmatched. These shoes redefine the walking experience, especially for those who face mobility challenges.
Frequently asked questions
Who are Cadense adaptive shoes for?
How do Cadense Adaptive shoes work?

Cadense adaptive shoes use our proprietary, patent-pending variable friction technology.

Low-friction elements on the shoe sole allow you the slide over everyday obstacles like uneven pavements. High friction rubber parts get activated when weight is placed on the shoe and allow you to stop and toe-off as needed.

See more details on how the Cadense Adaptive shoes work.
Which size should I pick?

When selecting the size for our shoes, we recommend choosing your regular size as our shoes are true to size. Our sizing is designed to provide a comfortable and accurate fit based on standard sizing conventions.
If you are uncertain about your size or have specific concerns, you may refer to our sizing guide for additional guidance. Feel free to reach out to our customer service team for personalized assistance. We want to ensure that you find the perfect fit and have a positive experience with our adaptive footwear.